4 Year Old Group –
R
A
I
N
B
O
W
S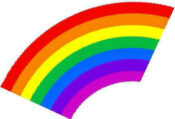 When appropriate, we run an indoor outdoor program where the children are able to choose where they play according to their own interests. Our playground allows for outdoor play even during extremes of weather due to sheltered play spaces.
Educators support and scaffold the children's learning through their interests.
We have extensive experience working with children with additional needs or disabilities.
We have a ratio of one adult to eleven children and cap our groups at 22 children.
For those families with a Health Care Card fees are at a greatly reduced rate.
Kate – Teacher

Over the last eleven years Kate has had the pleasure of working with children. She has completed her Certificate 111, Diploma, and Bachelor of Early Childhood Studies.  Kate promotes a classroom environment where children are given time, space, and opportunity to learn through exploring a range of engaging activities and learning experiences. She understands children possess different learning styles, and that each learning journey is valuable and unique.  Kate believes a focus during four year old kindergarten is in supporting children in developing positive social skills, resilience, emotional understanding, and independence which creates a strong foundation for future learning. Kate recognises each family is the 'specialist' when it comes to their child, and values opportunities to form positive partnerships with families to support their child's learning.
Jo – Educator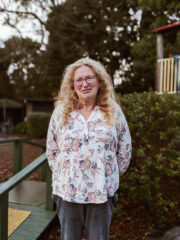 Jo has worked at LJMPS since 2000. She has been an integration aide and has worked with the 3's and the 4's.
Jo loves being an educator and watching the children grow and develop their minds to explore new ideas and find confidence within themselves. Her favourite learning experiences are messy art & play, cooking, and designing dramatic play areas that involve the children's ideas & voices.
Jo lives locally and has a great connection with families and the community of Belgrave South. Outside of kinder her love for her family, lifelong friends and going to the beach keeps her grounded.
Kylie – Educator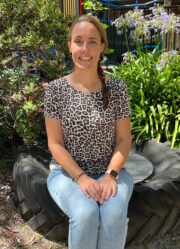 Kylie completed her Diploma in Early Childhood Care and Education in 2020 and is passionate about providing excellent care and education to children. Kylie believes children learn through play, so she likes to provide opportunities for children to explore, discover and create. She values each child is an individual and aims to identify their strengths and interests. Helping to further develop and extend these interests through play opportunities. Kylie enjoys music and movement, and encourages children to become involved. She recognises the importance of developing positive connections with each child, knowing that children learn best when they feel safe and secure, giving confidence to explore and try new ideas.
3 Year Old Group – BLUE STARS 

Our program runs according to the dynamics of the group. At the beginning of the year we like to encourage the children to play and eat all together. As the year progresses we may change to an indoor/outdoor program depending on the needs of the children.
Educators support and scaffold the children's learning through their interests.
We have extensive experience working with children with additional needs or disabilities.
We have a ratio of one adult to eleven children and cap our groups at 20 children.
Leah – Teacher & Director/Educational Leader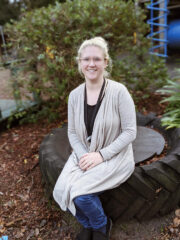 Leah has been in the early childhood sector for 14 years, completing her Certificate 111, Diploma and Advanced Diploma as she worked within the Early Years sector and in 2014 completing her Bachelor of Early Childhood Studies. Leah not only loves teaching our 3 year old stars, but mentoring our teaching team. She believes that play is a child's work and that learning occurs during developmentally appropriate, child-centred experiences. Leah believes that children learn concepts best when they are meaningful and relevant to them. She provides an atmosphere that is welcoming, challenging and engaging for all children. Leah offers a holistic approach to our programs that are dynamic, inclusive, child centred, flexible and high quality. Within our programs Leah places great importance on respect and care; both for others, our world and ourselves.  
Sylvie – Educator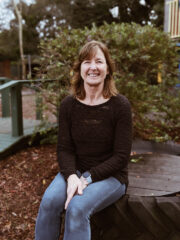 Sylvie has been an educator at Len Jeffrey since 2018. Over her time as an educator she has always worked with 3 year olds and has an understanding of their stages and personalities. Three year old kinder is often the first step a child takes in their educational journey and Sylvie tries to make each child feel welcome and comfortable.
She encourages natural inquisitiveness and builds confidence by taking small steps to attain a skill that might initially seem daunting.
Sylvie enjoys having fun with the children while learning through play, expanding on their interests and helping them navigate the path of social interaction between peers. She places importance on the values of respect, consideration, kindness and learning to do things independently.
---